Let Drivers be your one-stop-shop! 
Sales:  Our rental fleet is constantly turning over inventory.  Every year, we reserve carts throughout the price range to go on sale.  Whatever your budget, we've got a cart to fit you!  Drop us an email for a list of carts and pricing!
Service:  Does your golf cart need a part?  We will order it and install it for you on location!  Drivers carries a dealer status with some of the nation's top manufacturers.  We can find just about any part for your Yamaha, EZGO, or Club Car. 

Maintenance:  In addition to cart repair, we will also maintain your cart to give you years of trouble-free service.  Our maintenance packages vary from an oil/filter change, to a complete cart inspection that includes inspection/adjustment of all cables, brakes, suspension, motor, carburetor, etc.  Contact us for packages and pricing!


Customs 

If you can dream it, Drivers can build it!  We have been commissioned to build golf carts that range from mild to wild.  We have partnered up with one of the leading cart painters in the United States, and our after-market parts suppliers carry an extensive inventory to allow us to build one-of-a-kind carts.  Contact us to discuss your custom!  We will be happy to provide you a consultation and show you all of our portfolios and catalogs!

Please click on our project builds often to see build progress!

Update: Help promote your event or location!  Drivers will be happy to exhibit our custom-built golf carts to draw-in crowds for your promotion.

Superman Cart:
Customer commissioned, this cart was brought to us with a budget.  The body was stripped off the chassis, sanded, and repainted with a bright yellow/pearl clear coat.  Light motor modifications were performed.  "SS" wheels were added, eagle-eye headlights were mounted and wired in, and a built-in public address (p.a.) system was installed.  Customer-designed vinyl graphics were made using our In-House vinyl cutter, then applied to the newly-finished cart.
Chicago Bears Cart:
One of Drivers' own show-carts.  No expense was spared in designing this cart.  This cart contains heavy-duty rear suspension, custom powder coated four-passenger seat kit, custom upholstered seats, heavy duty clutch spring, "SS" wheels, full diamond plate, custom-molded dash board and steering wheel cover, chrome bumper, and the centerpiece of the project:  the custom painted Chicago Bears Body.  This body contains NO DECALS.  Every square inch of it is hand-painted and clear-coated.
Update:  This cart is complete!  Click on the pictures to see the finished product!  Featured on the main stage at the Chicago Golf Show in Rosemont!  More pictures to come!
Update: The new owner of this cart is one of the Chicago Bears' very own!
American Flag Cart:
We have BIG plans for this cart.  Construction has begun and we expect to complete this show-cart by March!  The USA cart will feature custom exhaust, long-travel suspension, 8" of lift, 23" custom tire/wheel combo, four-passenger seating, and a lot of chrome!

Click on the picture to view the progress gallery!

Update:  Our USA cart is complete!  Please view our progress gallery by clicking on the picture below!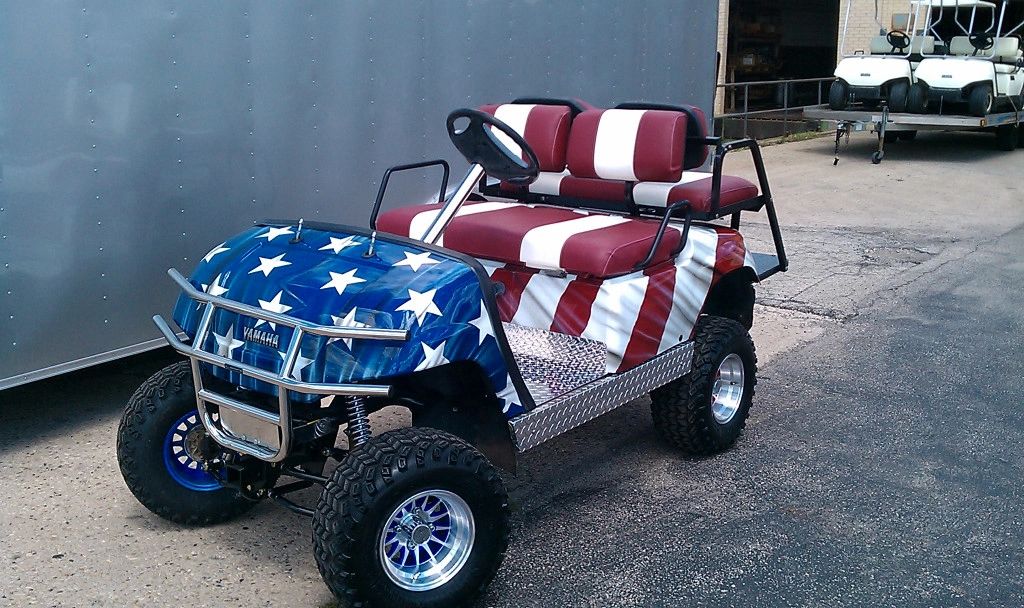 Purple "Real Flame" Cart:
This cart is undergoing it's build at the same time as the USA cart, but that is about the only thing they will have in common!  This cart will sit low, and will carry a dark theme throughout.  Top of the line rims, carbon fiber, and custom upholstry will be just a few of the things that make this cart a real head-turner!

Click on the picture to view the progress gallery!

Update:  Our Flame cart is complete!  Check out the photo gallery!